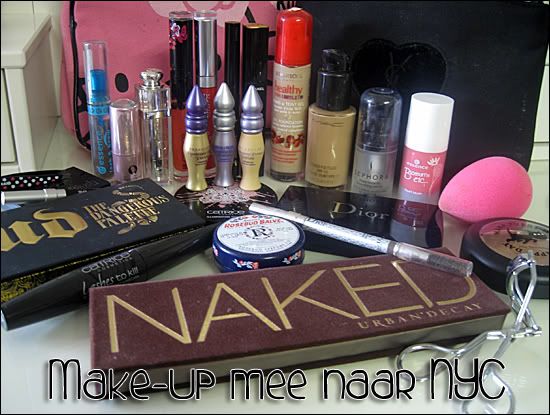 Make-up mee op vakantie.. ik vind het een ramp! Het liefst zou ik alles meenemen, tegelijk het liefst zo min mogelijk. Keuzes maken, kijken hoe ik het het beste kan indelen en meenemen. Ik vind het allemaal maar lastig!
Op een stedentrip vind ik make-up belangrijk. We gaan vooral bezichtigen en shoppen, als ik dat hier doe heb ik ook make-up op. Dus in een stad als New York wil ik dat al helemaal!
Ondertussen ben ik als de dood dat er te hard wordt gesmeten met m'n koffer, waardoor iets kapot gaat. Of nog erger, dat m'n koffer ergens kwijtraakt! Als je gaat vliegen heb je dat helaas zelf iets minder in de hand. Maarja, als je niet gaat vliegen, kom je wel heel lastig in New York ;)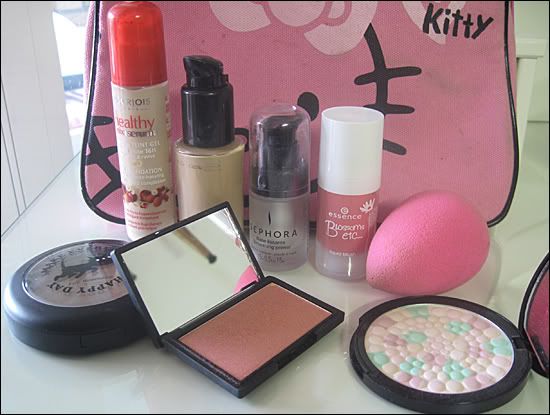 Gezichtsproducten:
- Bourjois Healthy Mix Serum foundation
- M.A.C. Studio Fix Fluid foundation
- Sephora Smoothing Primer
- Essence Blossoms Etc.. liquid blush
- Hema Jip & Janneke bronzer
- Sleek blush in Rose Gold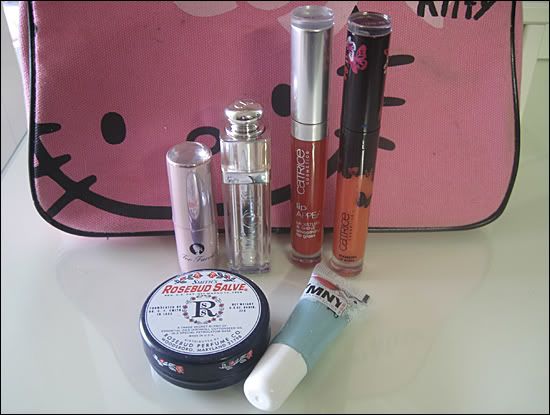 Lipproducten:
- Too Faced lipstick in Sex Kitten
- Dior lipstick in Rouge Podium
- Catrice Lip Appeal lipgloss in Red-y to Go
- Catrice Enter Wonderland lipgloss in Alice's Hatter
- Rosebed Salve Original
- MNY lipgloss 141A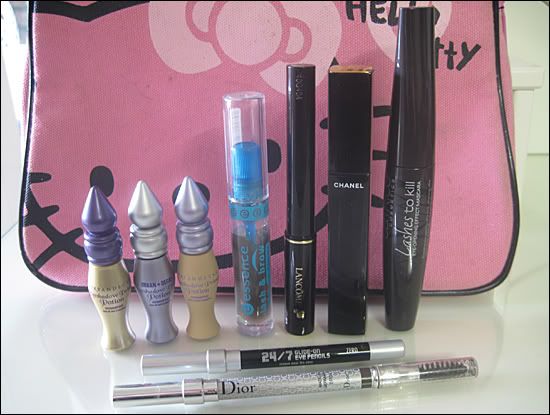 Oogproducten:
- Urban Decay mini Primer Potions in Greed, Original en Eden
- Lancôme Artliner eyeliner
- Sublime de Chanel mascara
- Catrice Lashes to Kill mascara
- Urban Decay 24/7 Glide On oogpotlood
Oogschaduw paletten:
- Urban Decay Naked palette
- Urban Decay Dangerous palette
- M.A.C. Too Dolly palette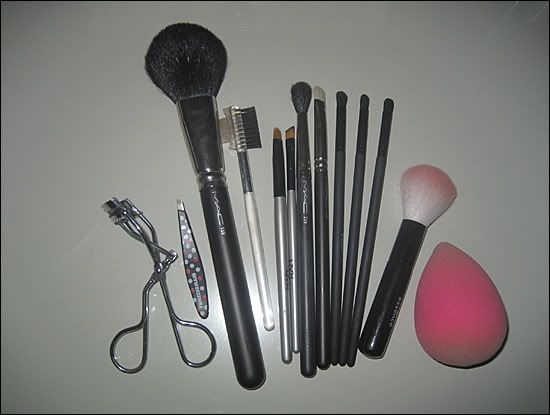 Kwasten en dergelijke:
- M.A.C. 150 powder brush
- M.A.C. 224 blending brush
- Drie oogschaduw kwastjes
- Beauty Blender (again, oeps..)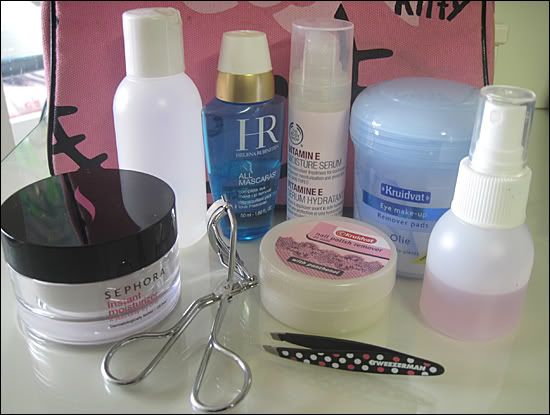 En dan nog overige:
- Sephora Instant Moisturizer
- Reisflesje met Beauty Blender Cleanser
- Helena Rubinstein make-up remover
- Body Shop Vitame E serum
- Kruidvat make-up remover pads
- Reisflesje met M.A.C. brush cleaner
- Kruidvat nagellak remover pads
- En wederom m'n wimperkruller en pincet
Goh, zo lijkt het nog heel veel.. Terwijl ik dacht dat het dit keer wel zou meevallen! Haha, niet dus. Ik heb alles verdeeld over zo'n vijf toilettasjes. Waarvan een paar in m'n moeders koffer gaan, die heeft toch niet zo ontzettend veel mee. Want geloof me; qua kleding, schoenen, tassen en accessoires ben ik net zo erg!
Neem jij veel make-up en toebehoren mee als je op vakantie gaat?