Beter laat dan nooit toch? Ik heb al een tijdje terug de Handwriting Tag twee keer gekregen. Van Sam van Balletbalm en Samantha van BeautistaSJ. Ik vind het wel een erg leuke tag, want ik vind het zelf leuk om handschriften van andere mensen te zien!

Dit zijn de vragen:
1. What's your name/what's the name of your blog?
2. What's your blog's URL?
3. Write "The quick brown fox jumps over the lazy dog."
4. Favorite quote?
5. Your Favorite song?
6. Your favorite band/singers?
7. Anything else you want to say?
8. Tag three to five other people.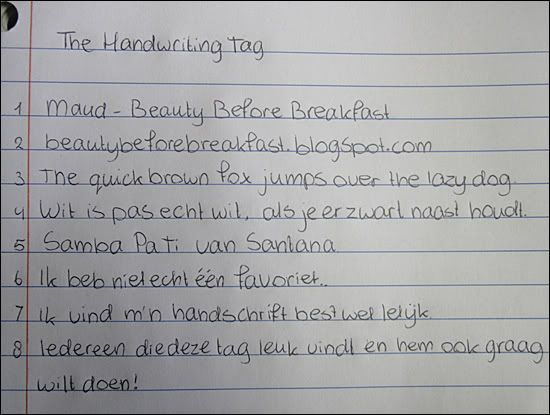 Zo ziet mijn gekrabbel er dus uit. Het lijkt me heel leuk als iedereen die deze tag nog niet gedaan heeft, hem overneemt!